Moon Rabbit DeFi 2.0 Jurisdiction Passes Ambisafe Security Audit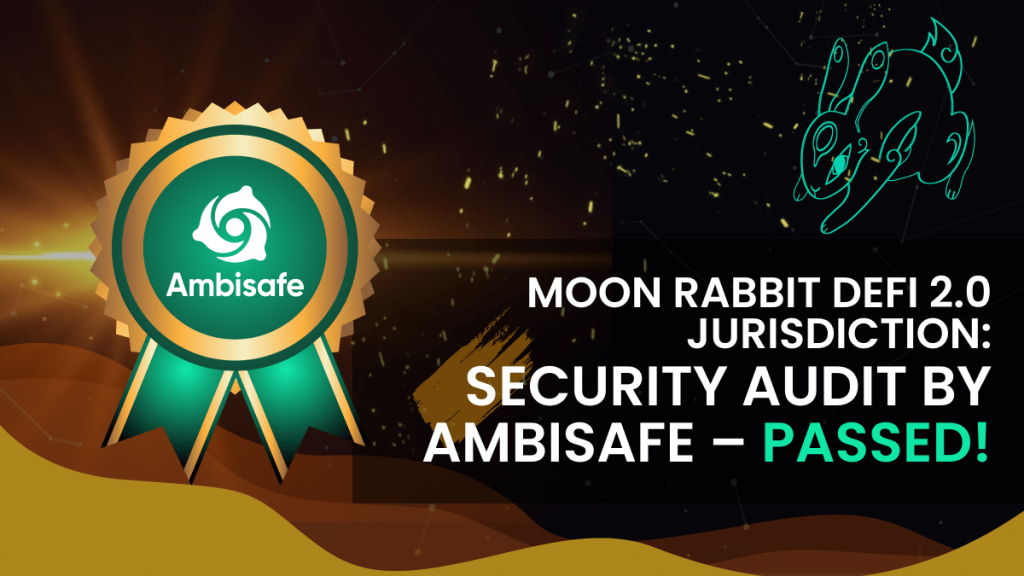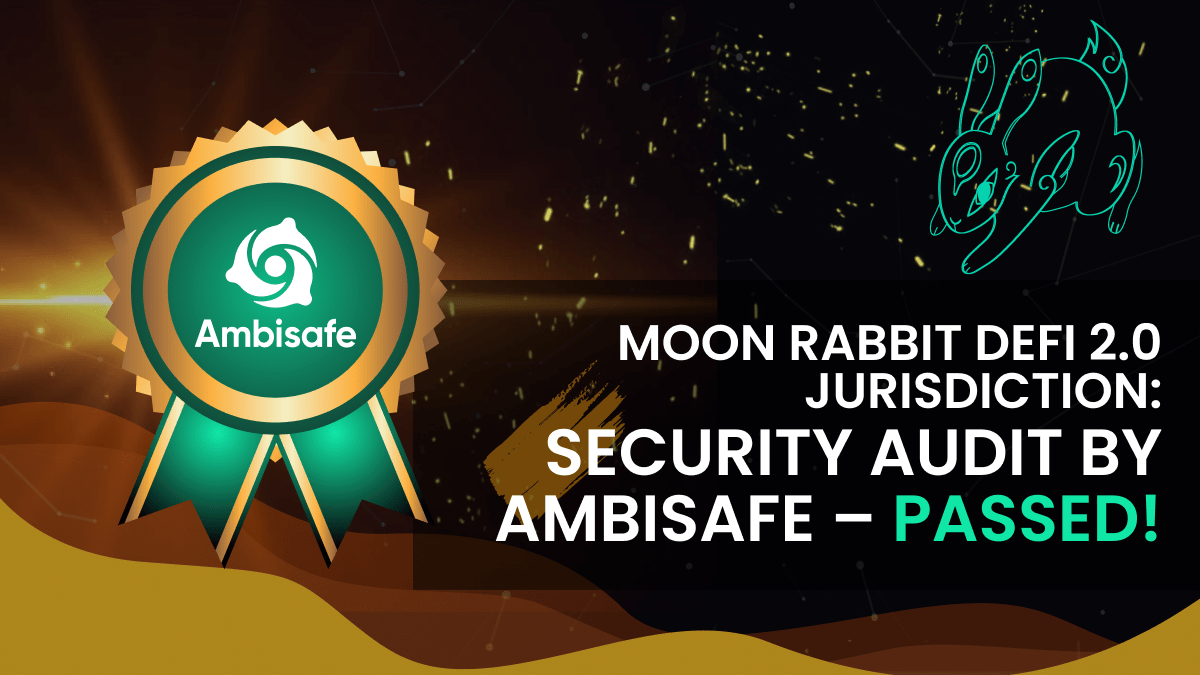 In our previous blog piece, "Moon Rabbit Metachain unlocks DeFi 2.0" we touched upon several important aspects of the upcoming DeFi revolution, what it meant to Moon Rabbit, and how it would ultimately shape the entire DeFi crypto landscape. Over the past several months, in growing anticipation for the upcoming launch of Moon Rabbit DeFi 2.0, we partnered with Ambisafe, a US-based company with vast Substrate and EVM experience and expertise in distributed systems since 2010, to perform a thorough and extensive security audit of the upcoming Moon Rabbit DeFi 2.0 Jurisdiction, and make sure we took every step possible to provide and maintain an unrivalled and safe user-experience within our new product.
The original document of the findings of the security audit by Ambisafe can be found here.
Moon Rabbit DeFi 2.0 Jurisdiction is an ambitious, state-of-the-art network, as one should expect from a protocol that at its heart aims to permanently re-shape the current landscape of DeFi clusters. The Moon Rabbit DeFi 2.0 Jurisdiction is an independent Substrate-based distributed network using the infrastructure of Moon Rabbit Metachain, initially consisting of basic trustless primitives, like: Borrowing, Depositing/Lending, Stablecoin, Oracles, Swapping and Farming. Together with the already launched Moon Rabbit DEX, they form a cluster of DeFi products launched and managed by Web3 Foundation LLC who are committed to building exclusively on Moon Rabbit. Those blocks will in time become the foundation for more robust offerings in the form of NFT backed loans, credit delegations, and multi-purpose DAOs, to name a few. To ensure the integrity and safety of all those components and smart contracts as well as to prepare for their subsequent integration into wider infrastructure of Moon Rabbit, Ambisafe was engaged.
The audit process commenced shortly after the first meeting, and overall, Ambisafe's analysis proved very favorable. The team at Ambisafe took their zero-tolerance bug policy and had a close look under the hood, examining in detail all of the 39 smart contracts involved, as well as libraries, and including Rewards Distribution, Liquidity Pool, User Info Registry, Stable Permit Token, Interest Rate Library, and Defi Core, to name a few. Working tirelessly shoulder to shoulder with Moon Rabbit community devs and partners, Ambisafe team found no errors that would affect any of the implemented logic, as per their final report. At that point, both parties quickly switched their focus to optimization.
The report continued to highlight some minor optimization issues that quickly prompted a tight update schedule for the affected parts of the Protocol, leading to fixes that ultimately made the code significantly leaner and faster. Following Ambisafe's advice, developers made certain registry variables immutable and removed several storage writing redundancies. In one case the team updated a function to read certain values automatically, and optimized another one to check for parameters only once. In addition, several naming revisions took place.
After months of rigorous reviews and updates, the final report found no errors, and readily concluded full readiness of the platform. The Protocol itself has been given a clean bill of health. The overwhelmingly vast majority of the project's infrastructure was found to be airtight, and the team at Ambisafe provided invaluable advice on how to implement further optimization – which is already scheduled. Ambisafe's unrelenting approach to security, coupled with the Moon Rabbit ecosystem's fast response and willingness to adapt, all but ensured that no lingering issue found its way into the final version of the product.
Ambisafe's input didn't end with only a security guarantee, though. The audit itself made several changes possible, one of which significantly reduced the cost of transactions on Moon Rabbit EVM Jurisdiction.
The audit was one of the remaining pieces of puzzle needed for the imminent DeFi 2.0 launch, but hardly the last one in the grand scheme of things that is the Moon Rabbit's ecosystem's ultimate vision. As the team, its partners and the community keep building and expanding on the platform, and the Protocol itself becomes more complex and rich in features, audits will become a more frequent occurrence and an integral part of the process. We welcome all of you to stay tuned for more, as Moon Rabbit DeFi 2.0 Jurisdiction goes through multi-stage launch!